Young Nigerian lady fights the pain to save her hand from amputation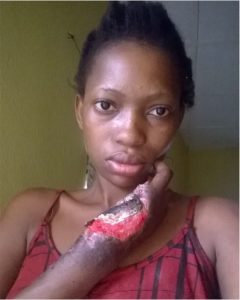 There was a silver of a chance, may be, but most likely the doctor thought there was no chance at all. Mary, a 23- year-old media student from Lagos, Nigeria will never forget the frustrating days she spent seeing doctors, having medical tests, and trying to figure out correct treatment of her unique and debilitating symptoms – only to finally find relief at the Fortis hospital, Gurugram, India
It started back in Nigeria when she had arrived at the St. Nicholas hospital with comatose hand, brought by her parents, who had come home after working out to find her semi-conscious because of severe pain in hand. A MRI scans revealed complexity inside her hand, the result of an aneurysm that had ruptured and spilled into a tangled mass of arteries (Arteriovenous Malformation, AVM). The abnormalities in her right hand had probably been present since long time. In 2016 Good Friday, it showed up first time as a boil on hand.
Marry's primary doctor told her mother to make up Marry's mind, to say goodbye to her right hand, after performing magnetic resonance venography (MRV). Mary, only 22 year old, was unlikely to have her hand for long time with this situation.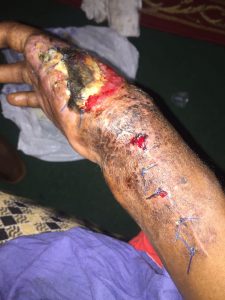 Mary's mother refused to believe it. Only a month's days ago, her daughter had been athletic and perfectly healthy girl. She refused to have her daughter's surgical resection. Therefore after carrying out MRV to look at the blood vessels in Marry's hand, the doctor referred her to a vascular surgeon.
Mary's mother, who had endured a harrowing escape after her accident, had experienced pain. But whatever her daughter was going through looked much more critical.  It was not just physical pain; it included emotional agony, fear to lose her hand forever.
Desperate to save her hand, Marry consulted few more doctors in Nigeria. But the dizzy boil got so bad that even the vascular surgeon recommended surgical resection. First the thumb and after a while her index finger, she lost both. Shortly after resection, the infection did not end. In a meeting doctor further discussed about complete amputation of her hand because of increasing infection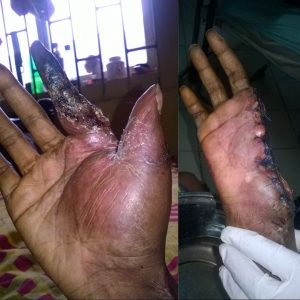 She couldn't eat by her herself or can perform any other task. She started feeling inferior. Exhausted, frustrated and starting to lose hope, she withdrew from family and friend's gathering. "There was no relief," she says. "I began to think I will have to lose my hand."
In a series of fortuitous events, Mary was able to surf the internet and got to know about Treatment Traveller and reached Dr. Priyanka, a medical advisor at Treatment Traveller. "Dr. Priyanka told Mary to send in pictures of her infected hand and asked whether there is any movement in the rest of her fingers and right hand. "I said, yes, it moved a little" Mary recalled "she said there is more likely chance of treatment in India and asked me to visit to discuss treatment options"
Just hearing the words "treatment options" filled Marry with relief. "It was the first time in these many days I had heard there might be a solution, she says. With that, Mary's parents requested the doctors to transfer her to Fortis hospital, Gurugram, India.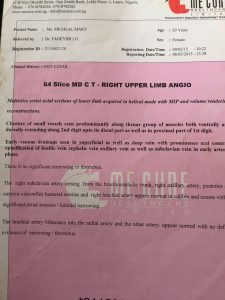 The initial physician confirmed that there is a treatment and also her resectioned figures can be re-built. Marry was shocked. "I was hoping to just get this infection removed out of me but never thought of getting amputated finger back" she says. "I asked if I could meet my cosmetic surgeon who will help me getting back my fingers. And that's when I was met to Dr. Adhishwar Sharma – who is a pioneer of the procedure."
Dr. Adhishwar Sharma explained to Marry that the tangling in the vein of hand was causing a disturbance in blood flow, resulting in a condition of making her hand unfunctional rapidly, which accounted for the decaying of her skin and bones. Then he described how the surgery would help repair the fingers and restore blood flow in hand.
"He took his time going over my imaging and explaining the procedure step by step. He also told me about other people's success stories," Marry recalls. "It was clear that it was very important to him that I understood what might have caused my Artery and Vein Malformation and what we were going to do about it."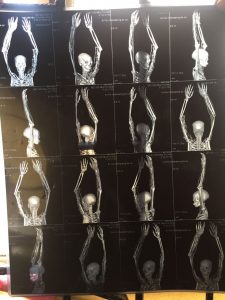 Dr. Adhishwar Sharma then summoned his team of physicians and other cosmetic surgeons to perform combined Catheter Embolization (a process to place medication called embolic agents through a Cather into blood vessel to block blood flow into an area of body) and surgery to rebuild her hand. Marry was wheeled into the operation theater at 11 PM and, over the next five hours, doctors team successfully rebuilt her hand and stopped the infection.
Marry woke up feeling groggy and twinged, but to her relief and amazement her hand was fully reconstructed and functional. "I was completely overcome with relief," Marry recalls. "The ugly and grisly wounds that plagued me for over a year were completely gone. I knew as soon as I opened my eyes that the treatment had worked!"
After a day in ICU Marry was moved to a regular hospital room, and three days after the surgery she was able to go her guest house.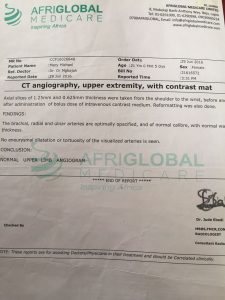 Marry hopes others with Artery and Vein Malformation will learn about this procedure and find help as she did – but without as much suffering and with a faster diagnosis. "I cringe thinking that there is so little awareness," she says. "There is a solution, and you don't need to suffer. I am forever grateful for care I received from Treatment Traveller and Fortis hospital."